Watermelon has become synonymous with summer and picnics, for all good reasons. No summer picnic is complete without watermelon; their refreshing quality and sweet taste help to combat the heat.  
The watermelon is a flowering plant that originated in northeast Africa, where it is found growing wild. Egyptians have been cultivating the melons for more than 4,000 years. Watermelons were considered a seasonal fruit, but today imports combined with local production ensure a year-round supply. There are more than 50 varieties of watermelon grown worldwide to give consumers many choices, with a wide variety of sizes, shapes, and colors from which to choose. Most of us are familiar with the vivid reddish-pink flesh watermelons, but there are also white-, yellow- and orange-fleshed varieties, either seeded or seedless. lets quickly go through some popular ones.
The Moon and Stars
Probably the most beautiful (and unusual) watermelon ever grown, this heirloom is also one of the sweetest! This variety of watermelon has been around since 1926. it is studded with a constellation of yellow-colored dots (Stars.) It can weigh as much as 40 lbs. It nearly disappeared  a few years after it was introduced, but has recently made a comeback.
 The Sugar Baby 
This is a small, round melon usually called an icebox watermelon because of its small size. This widely adapted variety is solid, dark green on the outside with a bright red, firm and fine-grained flesh that is super sweet. Watermelon contains high levels of healthy antioxidants, making Sugar Baby a great sweet way to pack in good nutrition. 
The Crimson Sweet 
This is one of the most popular watermelons! Crimson Sweet is more oblong and very sweet and juicy. It is recognizable by its lighter green color skin with dark green stripes. Its sugar content is a little higher than other watermelons. It weighs nearly around an average weight of 25 lbs. 
  Yellow Doll
 This is an oval, striped melons with thin rinds and few seeds. The flesh  is bright lemon-yellow, very sweet, with a pleasing, dense, crisp texture which makes it an excellent ingredient for smoothies and iced cocktails. It weighs about  5-7 lbs.
The Golden Midget 
This outstanding little watermelon is golden yellow on the outside and bright red on the inside. It is the earliest watermelon to ripen in the field! Sweet and juicy, they are perfect for anyone looking for a small compact watermelon with a unique look and great flavor. Elwyn Meader and Albert Yeager, well-known breeders at the University of New Hampshire, developed the variety in 1959. it weighs about 3 lbs.  
The Blacktail Mountain
This is a gorgeous green-black, round watermelon with a deep scarlet flesh. It is super sweet, juicy, and crunchy and weighs about 6-12 lbs.
The Mickylee
This is another mouth-watering sweet flavor watermelon with a tough, speckled  rind and dense red flesh. It  has a very crispy flesh an weighs about 8-12 lb.
The Cream of Saskatchewan
This is a beautiful little rare, melon with sweet, tasty, cream-colored flesh!  Originally from Russia, Cream of Saskatchewan is said to have been cultivated in North America by Russian immigrants who settled in the Canadian province of Saskatchewan. its weight is about 8-10 lbs.
The Sangria
Sangria is thought of as the "gold standard" when it comes to watermelon. This elongated fruit has dark green with broken light green stripes and deep red flesh. It has excellent flavor and high sugars. The melon's popularity has diminished recently owing to a demand for smaller varieties. it weighs about 20 -25 lbs.

The Yellow Baby
This hybrid is similar to yellow doll in its rind pattern and the color of its flesh; try the tender fruit in a salsa made with jalapeno and tomatillo.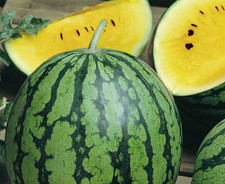 Hope you enjoyed reading and  have read something new.
Contact us via our email(makmigrofarms@gmail.com) or inbox us on facebook to help you advertise your agricultural produce or products to the world. 
…healthy foods, healthy lives.
Remember to kindly Share this article to others on the platforms below ↓.