Isn't it difficult to resist a perfectly ripe strawberry? Strawberries are beautifully sweet, aromatic, red berries covered with what looks like tiny dots. These dots are called achenes and are the true fruits of the strawberry plant (Yeah.) Each achene is really an individual fruit containing a single seed. This is why the strawberry is a 'false' or 'accessory' fruit because it comes from the base of the flower rather than the ovary.  
They are one of the most popular, refreshing, and healthy treats in the world. There are 103 distinct species and subspecies of strawberry plants. The peak season for strawberry is typically April through June, but you can get strawberries all year round, frozen or fresh.
Selecting a perfect strawberry can be a guesswork to many. Sometimes you get a sweet, ripe, juicy berry and you will be like: Wow! This is a strawberry. Other times you get a flavorless, mushy one, which may leave you disappointed. Anyway, if you know these general buying tips, you will save yourself from much of the guesswork and select a perfect strawberry.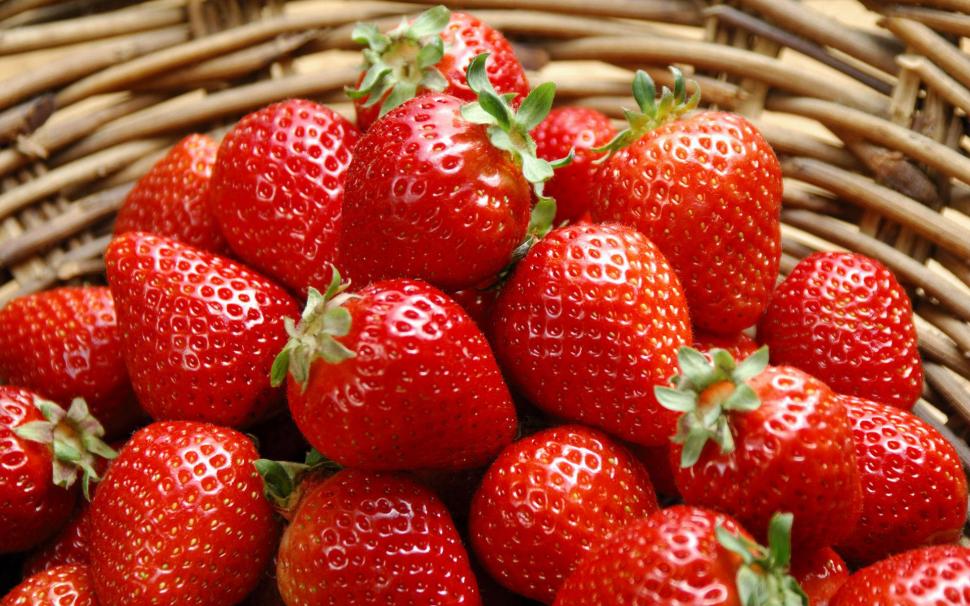 Appearance. This is the first thing you should look out for. A strawberry with visible mold or fouled spots are not good. Choose shiny, dry and firm  strawberries with bright red color  and free from bruises. The leafy cap should be fresh, green and intact. Avoid mushy or leaky berries.
dreamstime.com
Smell. Really, this is the most reliable criterion for practically any fruit. A fully ripe strawberry gives a fragrant smell. If it is under ripe, it won't give out that fragrance, and it will be hard and sour. If it has been picked long ago and is not fresh any more, it will have lost the more volatile components of its fragrance. So ripe, fresh strawberries smell great. If you smell the slightest hint of mold, fermentation, or foulness, it may not be good.

Color. A ripe strawberry will be uniformly rich red (although the shade of red differs among varieties.) An under ripe one will be white, pale or even slightly greenish at the top and may not taste good. Fully red strawberries are good. 

Don't choose by size. Strawberries come in many sizes. berry size is influenced by the variety, growing condition and time of picking during the season. A lot of people or consumers prefer large strawberries even though smaller varieties may be tastier. 
How To Use Strawberries
Do not wash berries until ready to eat.

store in a refrigerator for 1-3 days
Strawberry Ice Cream
Blend 3 cups strawberries and the juice of ½ a lemon in a food processor.

With a mixer, whip 1 ½ cups heavy cream and 2 tsp. vanilla extract until soft peaks form.

Slowly add 14 oz. sweetened condensed milk and whip until very thick.

Pour the berry mixture into a desired container, seal and freeze until firm. Enjoy!

Strawberry Jam
In large microwave-safe bowl, combine 3 qts. fresh strawberries, 3/4 cup sugar or honey (depending on your preference or taste) and 1 Tbsp. lemon juice. Cover loosely and microwave on high 15 seconds. Stir mixture to dissolve sugar.

Microwave on high, uncovered, for 5 minutes. Stir mixture well and check to see if it is done by putting a little on a spoon and placing it in the freezer for 5 minutes uncovered.

Look at the preserves on the spoon. They should be thick but not hard.

For slightly thicker preserves, microwave on high for another 5 minutes. For sweeter preserves, stir in a little more sugar or honey then cook another minute.

Spoon preserves into jars and refrigerate or cool at room temperature; spoon into plastic bags and freeze. Makes 7 cups.

This jam easily lasts 3 weeks in the refrigerator and 3 months in the freezer.

Strawberry  Smoothie
Ingredients 
1 cup coconut milk, almond milk, or regular milk

1 cup strawberries 

1 banana
Direction
Combine all of your ingredients in your blender and blend until smooth.

Pour mixture in your preferred glass and

enjoy!

…healthy foods, healthy lives.
Remember to kindly Share this article to others on the platforms below ↓.